Stefan Hauswiesner, Reactive Reality's CEO and Co-Founder, was invited by XR Today's Rory Greener to talk about our in-store solution PICTOFiT Mirror. We have put together all the answers and everything you need to know about smart mirrors in this blog article.
How Does Bridging Online and Offline Shopping Look Like?
Immersive technologies are on the brink of revolutionizing fashion retail. AR technologies have been fairly established and are more common in furniture and home shopping, where IKEA and Amazon already have solutions on the market. Now it is fashion's turn. The need is the same. People want to experience and try-on fashion before they buy online or in a store. Now with smart mirrors in stores and virtual dressing rooms on the retailers' apps and websites online and offline shopping get bridged.
A shopper's journey can look as follows: They create an avatar in a retailer's app and try on a lot of different sweaters but could not decide between three of them. Because of that the customer decides to visit the store where the store device already knows who they are, their avatar and what they have been looking for. Sales assistants can bring the three sweaters in real life to try-on and if there still was no suiting one, the retailer can still re-target with new and relevant items for the customer, based on the previous shopping history. This entire journey, whether it starts online or offline, is connected seamlessly through the user's avatar and the virtual try-on.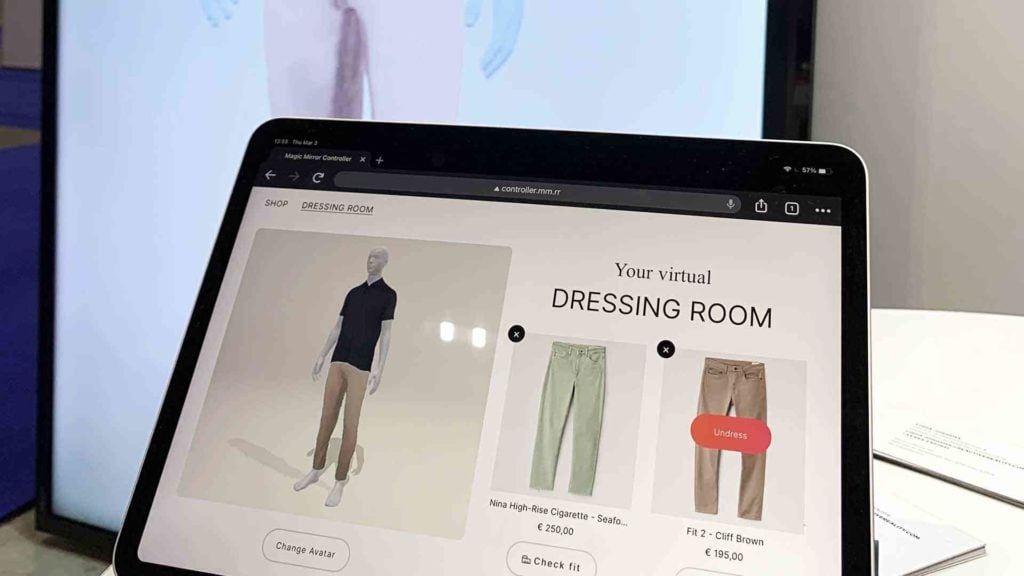 What Is the PICTOFiT Mirror?
PICTOFiT is the only platform that spans from end-to-end enabling brands and retailers to digitize their products and provide a virtual fashion try-on. It performs all the data processing and transfer all the way to the consumer's devices and as such brands and retailers only need to work with PICTOFiT to create the entire virtual try-on experience. It is the engine powering the PICTOFiT Mirror, Reactive Reality's in-store hardware application. It is operated via a tablet by the customer or staff.
Bringing the virtual fashion try-on solution into brick-and-mortar stores has a lot of advantage. The PICTOFiT Mirror allows store visitors to try on items very efficiently. Imagine going to a store which has 50 different pairs of jeans, but you are only looking for one. It helps you to narrow down your choice of jeans by trying them on virtually without going through the effort of trying all of them physically. This is a huge time saver for shoppers. The smart mirror is a huge space saver as well, since each square foot comes at a premium and retailers want to keep stock low. This means some items will be out of stock and on a PICTOFiT Mirror customers can still try on items that may not be in stock anymore.
How Does the PICTOFiT Mirror Help With Purchasing Decisions?
Store visitors can create their personalized avatar on the device with only entering a few measurements. This gets them an avatar with an accuracy of 94%. This digital version in the digital mirror gives accurate size recommendations as well as fit visualizations. It shows how e.g., a pair of jeans is going to fit, where it is going to be tight, a bit too long or too short. The PICTOFiT platform is fed with design data and manufacturing data of the individual products for it to have the highest values of data vitality in how a product is described in terms of dimensions. The smart mirror accelerates and enriches the shopping experience, especially if store assistance may not have time or there are long queuing times in front of the dressing rooms.
Why Businesses Should Leverage In-Store and Online Virtual Try-On Technology
As the world is becoming more digitized AR, especially virtual fashion try-on is becoming more common in the shopping journey. People shopping online are looking for a rich experience that matches the in-store experience. This gives stores the opportunity to become great brand experiences where customers not necessarily go to get the physical product but rather to experience the brands' identity and values. The shopping aspect of getting hold of a product is something that may be handled through shipment for online shopping. This is how Stefan Hauswiesner, CEO and Co-founder of Reactive Reality sees the future of offline and online coming closer together.
With the topic of the metaverse also becoming more popular fashion brands and retailers are in a unique position of knowing their customers extremely well. Brands and retailers that have a virtual dressing room or the PICTOFiT Mirror in their stores know what their customers look like in terms of the body shape and style preferences. This means that these fashion brands and retailers can equip people with their online avatars for all kinds of metaverse applications which is a huge advantage over other retailers. This is a huge potential moving forward as people spend more time on the metaverse working, gaming, and socializing. There will be a high consumer need for personalized avatars and fashion brands and retailers that start early in supplying virtual dressing can build up a very dense data set for the metaverse.