PICTOFiT
The Most Realistic and Scalable Virtual Try-On Solution Today
A unique aspect of our PICTOFiT platform is that it is highly realistic, scalable, and covers the entire virtual try-on experience. This includes the generation of content for 2D and 3D models of products, the generation of avatars ind 2D and 3D, the virtual fitting of garments to avatars, and size recommendations.
All In One
Virtual Try-On From Design to Distribution
PICTOFiT is the only end-to-end platform for virtual try-on, which scales from product digitization to photo-realistic virtual try-on, size recommendation and fitting.
Scalable
Product Digitization
PICTOFiT helps fashion and retail businesses to digitize their products in a cost-effective way, in order to drive growth and meet customer needs.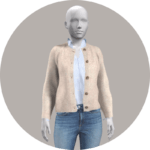 Seamless
2D & 3D Operation
PICTOFiT's seamless 2D and 3D mode is the perfect way for a fast and reliable integration of virtual try-on in your fashion product lifecycle.
Photorealistic
User Avatars
PICTOFiT user avatars look like your photorealistic digital twin, making it easy and fun to discover garments that fit your body type and style.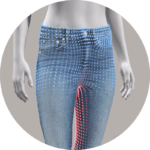 Advanced
Try-On Experiences
PICTOFiT provides a variety of features to help you find the perfect outfit, including Mix & Match, Size Visualization, Layered Outfits, 3D Scenes, and more.
PICTOFiT Product Family
Shopify Virtual Try-On App
PICTOFiT Shopify Virtual Try-On makes online shopping for clothes more convenient and enjoyable than ever before.
To stand out from the crowd, fashion brands and retailers need to focus on customer satisfaction by providing a unique and exciting shopping experience. PICTOFiT, Reactive Reality's white-labeled platform, powers a highly realistic, scalable, and fun virtual try-on experience for Shopify.
PICTOFiT Product Family
Virtual Try-On SDK
Create your own virtual try-on and sizing experience with our PICTOFiT Software Development Kit (SDK).
The PICTOFiT SDK is easy to integrate and comes with a wide range of features and customization options. You can use the PICTOFiT SDK to create a completely customized virtual fitting and sizing experience that fits your brand identity and customer needs.
Smart Mirror
Most Advanced Virtual Fitting Room Today
Offer your customers your entire wardrobe, not just what is physically available in-store. With our technology for smart mirrors, you can create a seamless omnichannel shopping experience by connecting your in-store and online channels with PICTOFiT Virtual Fitting Room.
PICTOFiT Product Family
CMS and Virtual Photography
PICTOFiT Content Management System (CMS) is the perfect solution for fashion and retail businesses that want to improve their online presence and increase sales.
The software makes it easy to turn conventional product photos into smart digital assets that can be used in virtual try-on and virtual fashion photography. This will give your customers a more realistic and aesthetic view of your products and help them to make better-informed purchase decisions.