Case Study
How CWS Elevated the B2B Workwear Shopping Experience with Virtual Try-On
Our Customer Uses PICTOFiT to
Attractively demonstrate what their workwear looks when worn
Improve the customer experience with CWS workwear
Give their sales team a tool to present their collections efficiently
Quickly share the outfits from the virtual dressing room as a PDF file with prospects
CWS is a global provider of workwear, hygiene, and healthcare solutions for businesses, serving customers in over 15 countries worldwide. CWS Workwear offers various industries a range of high-quality workwear and personal protective equipment solutions. The brand stands out for its commitment to sustainability, innovative smart technology, and eco-friendly materials and processes, earning it several awards and certifications.
CWS Workwear wanted a tool to display its product offerings attractively and efficiently to customers. However, the company had requirements that existing off-the-shelf solutions did not meet. Unlike the traditional fashion industry, workwear has unique needs and requires a different approach to presenting products. CWS wanted a digital mannequin tool to show how its garments would look when worn by male or female workers.
With Shopify virtual try-on app powered by PICTOFiT, CWS can now showcase its garments in an interactive and visually appealing way to shoppers who speak English, German, French, and Dutch. Since the virtual fitting experience is in 2D, CWS could easily create digital assets by only uploading ghost mannequin images, making the set-up process hassle-free.
CWS Workwear's sales team uses the virtual dressing room feature to mix and match garments and demonstrate to customers how they would look on male or female workers. To simplify the process, we added a functionality that allows sales reps to save these outfits in the dressing room as a PDF file, complete with garment details. They can easily share outfit options with prospects, streamlining the sales process.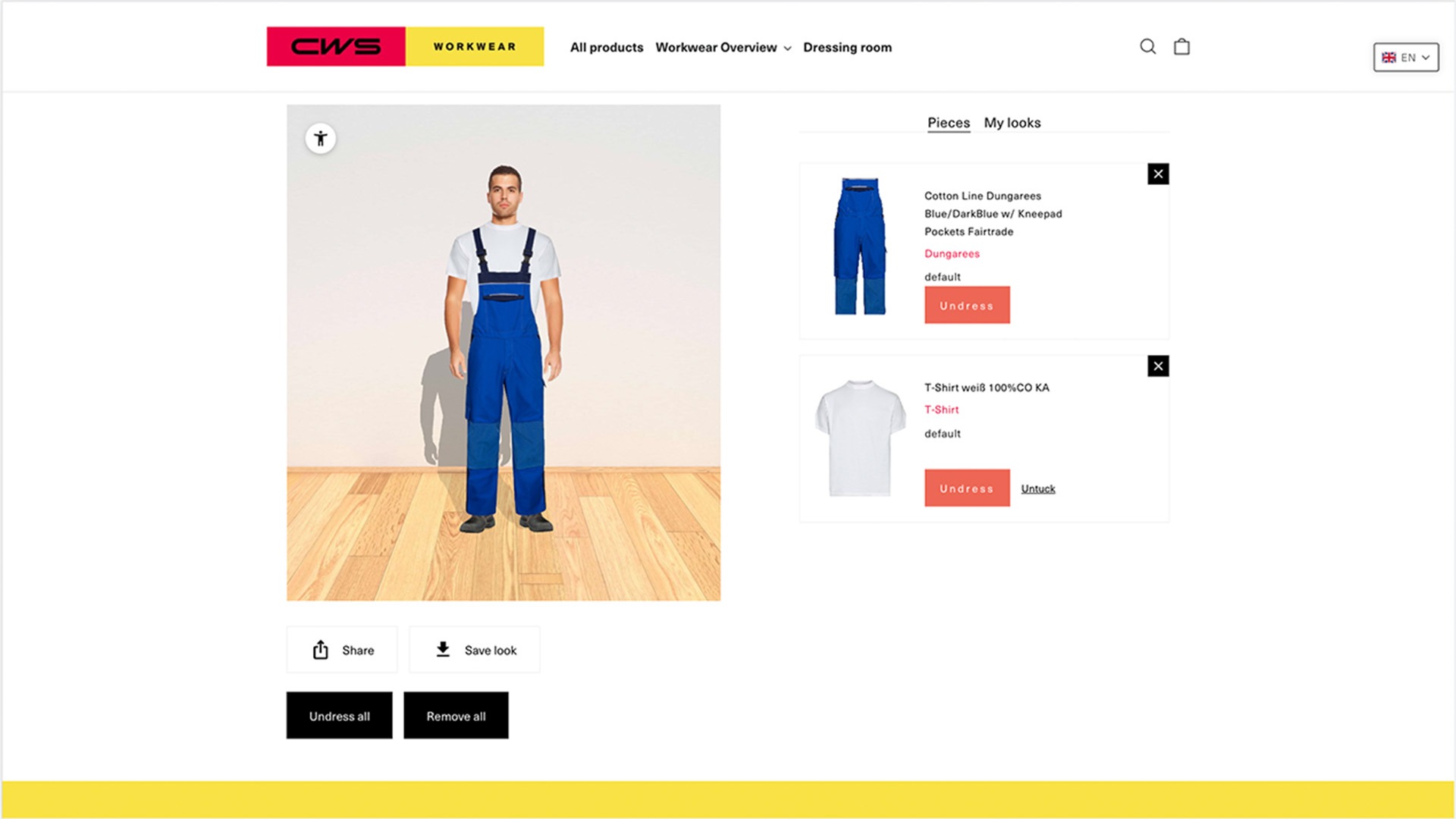 "Reactive Reality demonstrated their ability to meet our current needs and their willingness to further develop the tool to ensure our future needs can be met. PICTOFiT was recently put into use. Our Sales colleagues are very excited and expect it to save a lot of time. We are very optimistic about the further collaboration" says Marcel Adriaens, Project Manager for CWS Workwear, expressing his satisfaction with the app.