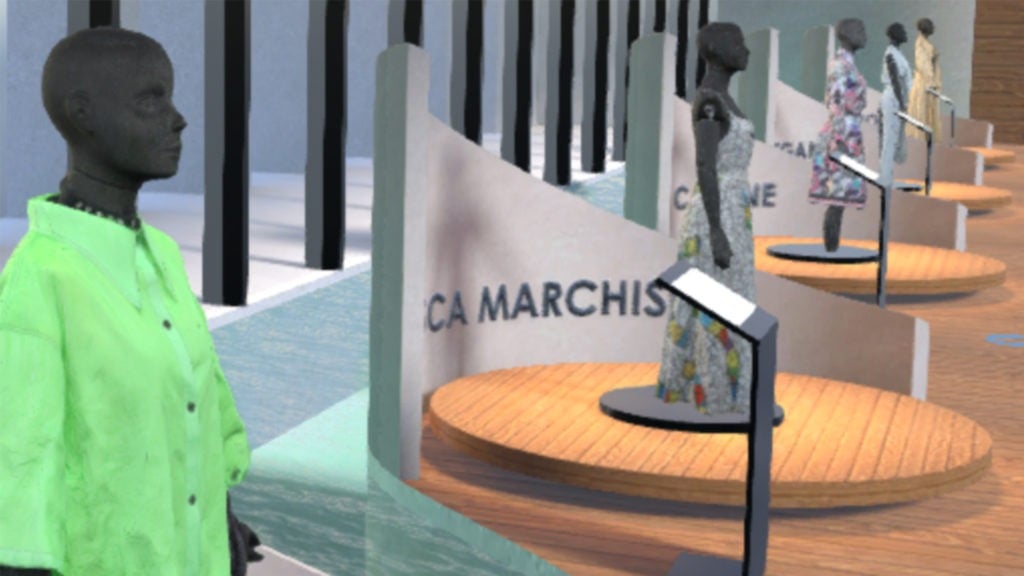 GRAZ, Austria – 15 October 2020 – The world of high fashion has succeeded in replacing the conventional catwalk with an engaging, interactive virtual alternative thanks to the breakthrough PICTOFiT augmented reality (AR) content engine from Reactive Reality. 
With live events cancelled due to coronavirus restrictions, Milan Fashion Week 2020 created a virtual showcase for a group of thirteen up-and-coming fashion designers. The designers presented 3D replicas of their new designs on virtual mannequins.
The organizers of the virtual runway chose Reactive Reality's technology to create authentic, millimeter-perfect 3D models of the designers' haute couture collections. The PICTOFiT technology combines high-definition photorealism with an easy-to-use capturing processes, ensuring timely delivery and scalability for designers, brands and retailers. A virtual 3D replica of an object, such as a garment, can be captured in roughly three minutes. The capturing process is simple and capturing equipment consists of standard photo studio components accompanied by Reactive Realitys' software, ensuring smooth operation. The connected PICTOFiT Content Service automatically converts captured photos into 3D objects. Utilizing the PICTOFiT 3D Capturing Studio, the photoshoot for the entire collection was completed in just two days. As thePICTOFiT 3D Capturing Studio was designed to maximize the throughput and quality of the 3D virtualization, the 26 outfits of the designers represented neither a technical nor a timing challenge.
Stefan Hauswiesner, CEO of Reactive Reality, observed that new coronavirus measures forced organizers into the late decision of creating a virtual runway for its selected emerging designers'group. They needed to move quickly to create an exciting and interactive virtual show. Reactive Reality allows designers to focus on their expertise, taking away the burden of the presentation online. Reactive Reality, as the market leader in scalable AR solutions for e-commerce, creates virtual models of clothes so quickly that the designers can maximize their time for realizing their creative vision. Simultaneously, there are no compromises on image quality. The precision with which PICTOFiT works allows any online visitor to feel like they are standing right in front of the real-world outfit itself.'
The virtual runway features two completely new designs from each of the designers. Online visitors have a 360° view of each outfit, and can zoom in and out to appreciate the details. The clothes drape and the folds, colors, materials, shine, and texture are all precisely rendered in high-definition scalable 3D augmented reality.
Reactive Reality's technology for capturing products and people on mobile devices within minutes is set to revolutionize fashion by presenting to buyers, designers, and consumers ultra-high-definition 3D digital twins. It transforms how we interact with fashion, bringing all the advantages of an in-store shopping experience online, from the convenience of your home.