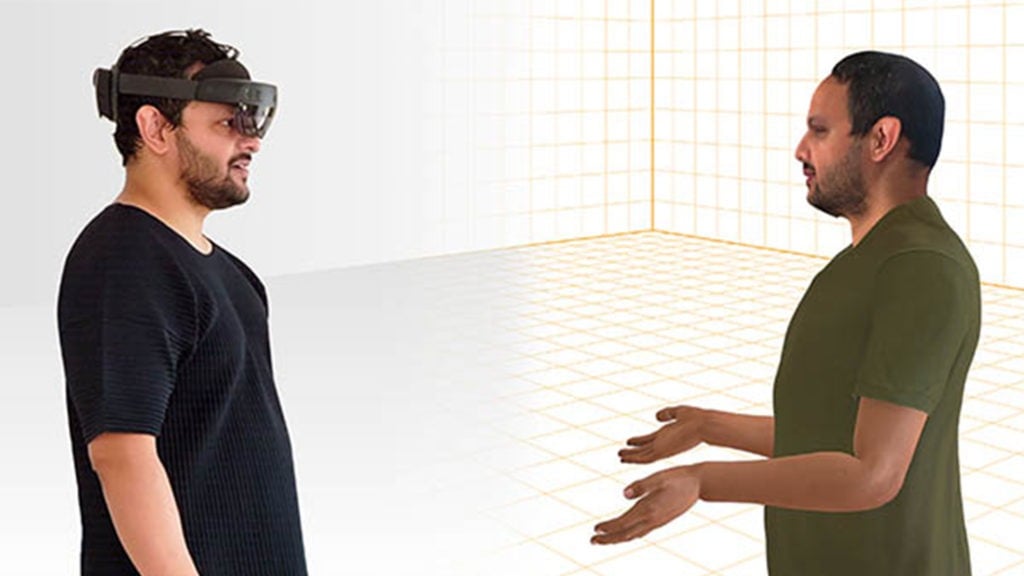 LONDON, UK (October 6, 2020) — The Fashion Innovation Agency at London College of Fashion and Reactive Reality have partnered with Microsoft to create a digital human stylist that allows fashion lovers to virtually try on outfits and get uniquely customized style tips. Building from a collection of advanced technologies, users can create their own personalized digital avatar that becomes their very own AI powered stylist. The digital human stylist is able to learn and predict behavioral and style preferences based on a user's existing wardrobe to provide meaningful outfit suggestions for the user to view instantly on their 3D avatar. The outcome is a more intelligent choice, both in terms of style and sustainability, with the potential to revolutionize and reconnect the fashion industry in an increasingly remote world.
"Digital humans are going to play an integral part in our lives in the future so, we wanted to build a new form of interaction for fashion retail that demonstrated the extraordinary opportunities ahead", says Matthew Drinkwater, Head of Innovation Agency, London College of Fashion. "A smart, trusted, holographic digital advisor will transform the way we shop for fashion and our understanding of how we utilise our wardrobes. Working with Microsoft and Reactive Reality has enabled us to bring to life a vision for a more personal, immersive, sustainable, and inspiring future for fashion retail."
Realistic and advanced within an engaging and intuitive interface, one's digital human stylist is brought to life with effortless natural animations and speech via Microsoft Cognitive Services. The process for users to create their photorealistic digital human, customized to their specific body type, is simple.  Using Microsoft Azure 3D capture process pioneered by Reactive Reality PICTOFiT Technology, allows users to be scanned by their smart device in a matter of minutes. Powered by Microsoft Artificial Intelligence, Custom Voice and Natural Language Processing, the stylist can further comprehend additional information exclusive to the user, such as current location, calendar events and environmental data (local services, weather, community information). Combining all this data enables the digital human stylist to suggest the most ideal outfit recommendations based on pre-scanned 3D garments stored in the user's digital wardrobe.
"The digital human stylist, your photo-realistic digital twin, truly transforms how you interact with fashion in the future. With the fashion industry becoming increasingly commoditized, and users being exposed to unlimited options while shopping online, the digital human stylist becomes a consumer's personalized advisor." says Stefan Hauswiesner of Reactive Reality. "Working together with Microsoft and the Fashion Innovations Agency, we turn the user's home into a virtual fitting room. Powered by PICTOFiT, Reactive Reality's scalable augmented reality engine, it brings all the advantages of an in-store shopping experience online, allowing anyone to virtually try on their favorite clothes and make smart outfit choices."
Taking the interaction with the digital human stylist to an even more personal level, users can have natural verbal conversations to inform future choices based on schedule or inspiration, provide feedback on recommendations of previous outfits, request new garment options, or add alternate looks or items to their wardrobe. This interaction is also possible through a broad suite of connected Microsoft products including the HoloLens 2.
"In this era of digital wardrobes and digital fashion services, understanding how we can drive authentic connections and customized experiences between customers, retailers and peers is an exciting challenge", informs Maruschka Loubser, Director of Strategic Brand Partnerships at Microsoft. "This partnership with Fashion Innovations Agency and Reactive Reality is generating valuable insight for potential economical and sustainable business models within fashion retail, while exploring the role technology plays as an enabler for more personalized styling experiences and interactions that have the ability to scale with a positive impact for the world we live in."
The potential effects of this project are far-reaching, from retail, enterprise, advertising, to showcasing throughout the entire fashion industry of tomorrow. Not only does the digital human stylist reduce the personal effort and investment required to browse and experiment with style, it also reduces the environmental impact of fashion consumption through more considered browsing. The benefits being increased purchase satisfaction and a reduction in unwanted item returns.